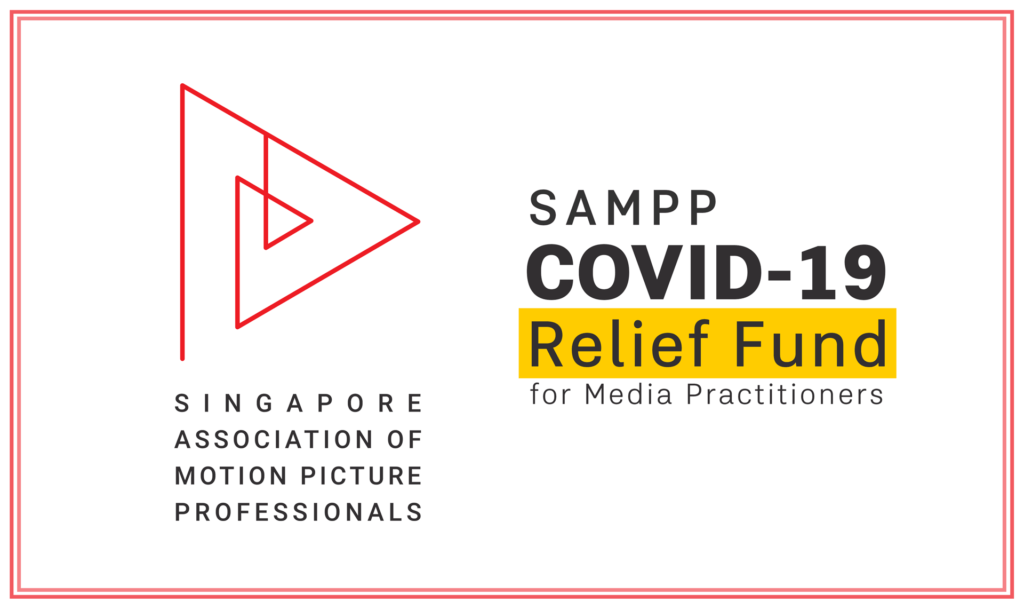 With the Covid-19 pandemic escalating in Singapore and around the world, our industry has been hard hit by the cancellation and postponement of projects and productions in the past and coming months.
The Singapore Association of Motion Picture Professionals (SAMPP) has launched a $40,000 SAMPP Covid-19 Relief Fund to support Singapore-based motion picture freelancers whose livelihoods have been severely affected by the coronavirus pandemic.
SAMPP has initially put together $20,000, from which we are offering grants of $500 to support the film, television, new broadcast media and wider motion picture community through this challenging period.
To support the initiative, IMDA and Mediacorp have also contributed $20,000 respectively to the fund to rally the community and encourage more people to lend assistance for those in need. Our thanks to IMDA and Mediacorp for the generous support.
We are also very heartened by the generous offers from fellow practitioners who got in touch to contribute, and we have set up a crowdfunding campaign page on the charity platform run by our partner, Ray of Hope.
Supported by
ELIGIBILITY
Applicants need to be registered members of SAMPP. In light of the current crisis, membership fees will be waived for the current year and applicants will need to register before applying.
Grants will be awarded based on the assessment of the needs of the individual applicant and their household needs, with one grant given per successful applicant household only. We have partnered with a social sector organisation to make decisions on the applications.
In order to help our partner assess your application, it will be most useful if you can highlight your situation with as much detail as possible.
(1) REFEREES
We ask for two referees so that we can ascertain your identity and that you work in the industry. It can be someone you have worked with before (fellow colleague or department head) or employer/company (producer, production manager, production company) that has hired you before. They should be agreeable for us to contact them if necessary, to vouch that you work in the industry.
(2) ORIGINAL DOCUMENTATION
We do require documents as evidence of loss of income affecting your livelihood.
Proof of Original Income
Proof of Loss of Jobs/Income
The information you provide will be treated with the greatest confidentiality and will be used only for the purposes of funding decisions.
Documents could include:
IRAS Tax Statements
Bank Statements
Invoices
Letter from Employer/Company on cancellation of Jobs
WhatsApp/Text Messages on Fees Agreed and Job Cancellations
HOW TO APPLY
Please fill in the online application form, and email the necessary supporting documents as attachments to admin@sampp.org.sg with the subject head 'SAMPP COVID-19 RELIEF FUND APPLICATION'.
Due to our limited funding, we are looking to focus on the most needy members of our community, particularly:
Those struggling with daily living costs such as food and housing
Those struggling with medical and health costs in the family
Those with dependents who will be affected by the loss of income
Families where both income earners have been hard hit by the pandemic
SUPPORT THE FUND
We also welcome contributions to our fund. To contribute, please give to us through our campaign on Ray of Hope here.

(updated 23 Apr 2020)